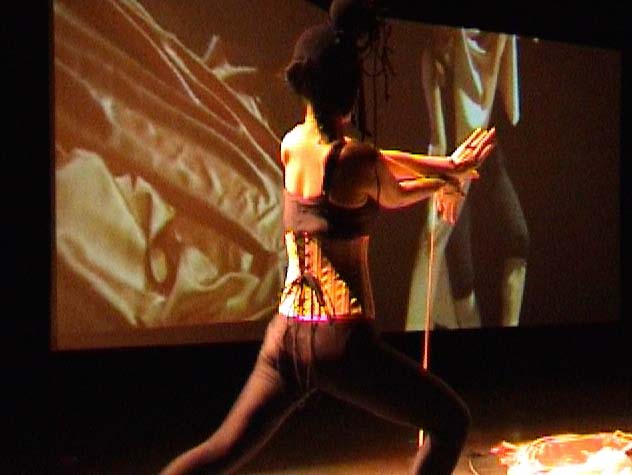 telematic dress prototype
emerging from the physical camera/choreography/telematics lab, a team of fashion designers, dancers, filmmakers and photographers work on the composition of a "telematic dress"
exploring the conceptual and aesthetic possibilities of an "open", "distributed" dress that is evolving and shareable in the generation of its design by performers and users in different sites across time difference and cultural geographies.
"generation" is linked to communication. the new prototype is both personal and interactive, the experience of wearing is touching the other
This work links the design interests of the fashion artists with the choreographer's interest in developing collaborative modes of performance online/across distance and composing and communicating live with streaming or mobile media where images act upon the physical and kinetic experience of the receiver
In the fall of 2005 the "tedr" enters research & development with computer engineers and a parrtnership with CANESIS Ltd.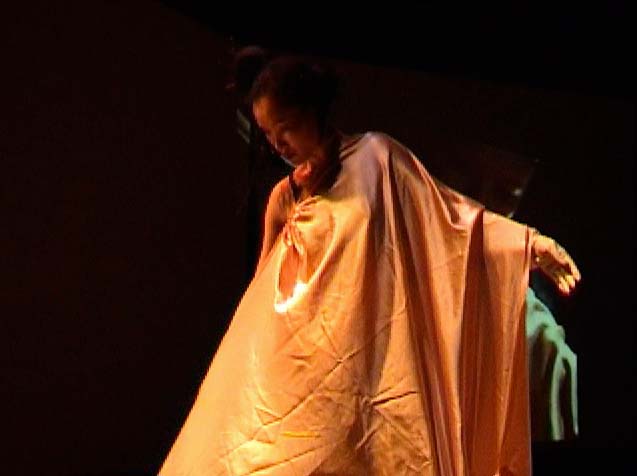 Helenna Renn with "tedr"
Together with the CANESIS fabrics engineers, the DAP seeks to incorporate conductor weave, and push prototyping to the point where we can use sensor technology with the fabric to allow transmission of energy/pressure, motion and heat data from site to site via internet or mobile communications, so that the wearers on either side will be exchanging their emotional and expressive movement-texts.
click here to go further
(c) 2005-06 DAP
Project directors: Johannes Birringer & Michèle Danjoux
Brunel University, West London