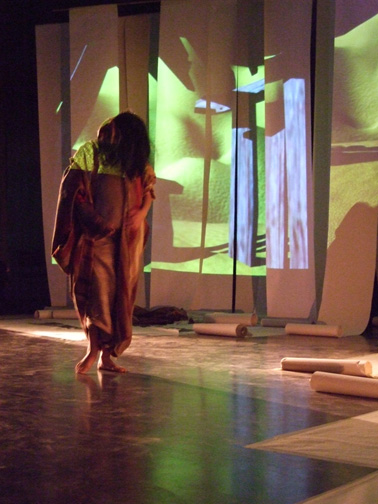 RELEASE
16.10.07
Suna no Onna
By
Dans Sans Joux
Laban Centre Theatre is delighted to announce the world premiere of Suna no Onna, the new piece from Dans Sans Joux, in the Laban Theatre Studio on Saturday 8 December at 1930hrs.
Dans Sans Joux has been commissioned to create a new movement-design performance for the INTIMACY festival organized by Goldsmiths College on the weekend of December 7-9, 2007. Suna no Onna ( "Woman in the Dunes"), adapted from Hiroshi Teshigahara's mysterious 1960s cult movie, is a dance installation that merges virtual and real images of a life of existential entrapment in an inhospitable habitat. The ominous sand dunes of Teshigahara's desert are transformed into virtual realities that shape the unconscious ground where the Woman (Katsura Isobe) meets a scientist-foreigner who stumbles into her life to become a captive. The work combines dance, interactive video and animation, fashion design, and computer music created by an ensemble of artists from diverse creative backgrounds. The integration of the various elements of this performance follows an experimental fashion concept for the development of sensorial clothes (built with intelligent fabrics) which respond to human emotions and environmental pressures.
Conceived and directed by Johannes Birringer and Michele Danjoux, the stage production features new fashion concepts by Danjoux and digital designs by a group of collaborating artists including Paul Verity Smith, Doros Polydorou, Maria Wiener, and Jonathan Hamilton. Original music is composed by Oded Ben-Tal, and the scenography is by Hsueh-Pei Wang. Lighting design by Miguel Alonso. Suna no Onna is performed by an international cast of three Š Japanese dancer Katsura Isobe, British dancer Olu Taiwo, and Chinese dancer Helenna Ren.
Dans Sans Joux is a new company founded in 2004 by Johannes Birringer and Michle Danjoux when they started a telematic performance and design laboratory in Nottingham and began to develop wearable prototypes for performance in networked dance environments and fashion contexts. They were joined by Helenna Ren, whose performances were featured at the 2005 Digital Cultures festival (in telepresence with partners in Arizona). As a result of their shared vision to expand the boundaries of digital performance and design, real-time music and virtual environments, the company has been collaborating with a group of dedicated interface designers and motion graphics artists, and released a film (KlŸver) in 2006 which has been shown in the USA, Czech Republic (Prague Quadrennial), and the UK. Suna no Onna was developed during a residency at the Interaktionslabor in Germany in the summer of 2007.
Johannes Birringer has choreographed numerous works for his Houston-based AlienNation Co, and has shown films and videos at festivals in the US, Canada, Cuba, Brasil, China and Australia, as well as across Europe. A founding member of a telematic performance collectice (ADaPT), he also directs the International Interaktionslabor in Goettelborn, Germany (http://interaktionslabor.de). Michele Danjoux is a Nottingham-based fashion designer and has collaborated on a number of cross-disciplinary exhibitions placing fashion design in a wider arts and cultural context, including Archaeology Revealed, Satellites of Fashion and Textures of Memory. Her design films have been shown internationally. Katsura Isobe, Olu Taiwo, and Helenna Ren have performed on stages in London and abroad for a number of years. Isobe is an independent dance artist; after extensive performance experience in Tokyo, now she creates and performs works with many choreographers and artists in UK, including Carol Brown, Stephanie Schober, Thomas Kampe, and Paul Verity Smith, many of which are based on improvisation and include collaborations with photography, film and new technologies. Olugbenga Taiwo is a dancer/choreographer who has experimented with multiple media and a comprehensive transcultural philosophy of rhythm based movement ("the return beat") and cognitive metabolisms. Oded Ben-Tal participated in various international festivals and workshops such as the Dartington International Festival, Domaine Forget course with the Nouvel Ensemble Moderne, the Apeldoorn international young composers' meeting, and Seoul's International Electroacoustic Music Festival. His compositions were also played in numerous countries including the UK, France, Korea, the US, Columbia, Israel, The Netherlands, and Denmark. His work includes instrumental and vocal works, acousmatic music, interactive electronic pieces and multimedia projects. Hsueh-Pei Wang is actively involved in the areas of smart fabrics, conductive textiles and interaction design. She is a researcher based in the School of Engineering and Design at Brunel University
ENDS
For further press information, images or to interview a member of the company please contact Laban's Press Manager, on 020 8469 9523 or b.brady at laban.org
Dans Sans Joux website: www.brunel.ac.uk/dap/dap6.html
Dans Sans Joux are Artists in Residence at Brunel's Center for Contemporary and Digital Performance, West London
Suna no Onna / Dans Sans Joux is presented as part of the event INTIMACY Across Visceral and Digital Performance (London, 7-9 December 2007). [http://www.intimateperformance.org]. INTIMACY is co-directed by Rachel Zerihan & Maria Chatzichristodoulou and supported by the AHRC ICT, Methods Network, Goldsmiths University of London and LABAN. The production is supported by the DAP research lab at Brunel University's Center for Contemporary and Digital Performance , Interaktionslabor Goettelborn & Nottingham Trent University's School of Art and Design. Oded Ben-Tal's work on this project is supported by the Leverhulme Trust's artist in residence grant. .
all images from the rehearsal and software design devopment at DAP Lab (c) 2007 DAP lab
.
Further notes on design and performance concepts are published on this site.
(c) dap 2007
Project directors: Johannes Birringer & Michèle Danjoux
Brunel University, West London