research labs
BEIJING DANCE ACADEMY, China ......TECHNE FESTIVAL, Istanbul, Turkey ......PERFORMANCE SPACE, Sydney, Australia
October 17 - November 7, 2004 ...........................April 3-8, 2006............................................May 1-7, 2006
emergent dance technologies

directed by Johannes Birringer (Brunel University)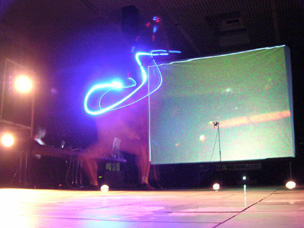 For the program of the Beijing lab presentations, go to PROGRAM
This multimedia performance and technology lab is designed to explore the multimedia communications and expressions in contemporary performance (dance and choreography, music, video) and installation. It is arranged for participants from the hosting academy and other interested practitioners and theorists. Special emphasis will be given to the exploratory and collaborative process of new practices that challenge the relations between cultural and formal expressions, deeply embedded techniques and interactive or emergent technologies

Research in the studio examines new digital processes of performance composition with digital video/audio, sound, live interactive systems, live processing and remixing, and the use of digital projections in performance.
Areas of training:
--- Physical Camera: creation of video dance and video-dance projection
video editing and composition/choreography for the camera
---history and contexts of videodance and dance on film in the 20th century
--- technological performance process (sampling, editing, processing, reprocessing, multi media integration in dance/performance)
--- sound synthesis and architectures of interaction
--- interactivity and responsive dance environments (design, live/virtual interfaces, Isadora, MAX/MSP/Jitter, MIDI activity, telematic transmissions/live streaming)
Objective:
This Workshop focuses on experimentation that seeks to explore new spatial-temporal relations and possibilities for dance and dancing with camera/film technologies and real time processing software, aiming at new dimensions of visual, sensory or kinetic experience in dance. The lab also explores various aspects of the cultural relations and assumptions that "control" techniques, methods of choreography and mediation, and perceptional and cognitive processes.
For an exact workshop structure-outline please contact the project leader.
The lab is rehearsal and production-oriented, but also includes space for discussion and reflection. A public rehearsal-performance, screening or installation/ exhibition of the materials that have been developed by the participants concludes the process. The public is invited.
For a description of the workshop "Body - Art & Technological Transformations", first offered at "The flesh made text", Aristotle University of Thessaloniki, Greece, go to the "bodytech" page.
For a description of the "LBLM" workshop structure, go to the AlienNation wesbite.
Organizer: Dr Zhang , Head of the department of art communication, Beijing Dance Academy
Aylin Kalem, Vivian Saragosi, Ekmel Ertan, Caty Dance Studio and TECHNE Festival
Fiona Winning, Performance Space Sydney
Project leader: Johannes Birringer